Help your patients get the comprehensive support they need to start and stay on track with treatment
Personalized treatment support for your eligible patients starts here*

Or, choose one of the following enrollment options:
The Adbry® Advocate™ Program provides access and insurance coverage support for patients who qualify.
LEO Pharma is committed to helping ensure that patients can access and initiate therapy when prescribed Adbry, including through the Adbry® Advocate™ Program. Restrictions apply.
See Full Terms, Conditions, and Eligibility Rules. For eligible patients, the Program consists of:
Patient Access Support Kit
Suggested best practices and letter templates for appealing denials of prior authorizations
aThe initial dose of Adbry may be shipped either to your office or to the patient after submission of a completed Enrollment and Prescription Form or annual Healthcare Provider eRx Program Certification Form, as applicable, and Patient Authorization. A Nurse Advocate must coordinate shipment to a patient, which may extend delivery time. Patients who have been initiated on therapy with samples are not eligible for Rapid Access Product.
bAdditional terms, conditions, and eligibility rules apply. Enrollment in Adbry Advocate is not required to obtain copay support. For all other patient support programs, enrollment in Adbry Advocate is required. Patient or healthcare provider may not seek reimbursement for the benefit received from any party. LEO Pharma reserves the right to rescind, revoke, or amend the Program and discontinue support at any time without notice.
cPatient is not eligible for the Program if enrolled in any federally or state funded health care program, including but not limited to Medicare (including Medicare Part D), Medicaid, VA, DOD, TRICARE or CHIP.
dIncome eligibility requirements apply. Patient may be required to submit documentation of income and insurance coverage status.

*Program has an annual cap. Program may not be combined with any third-party rebate, coupon or offer.
EASI, IGA, and Pruritus NRS Scales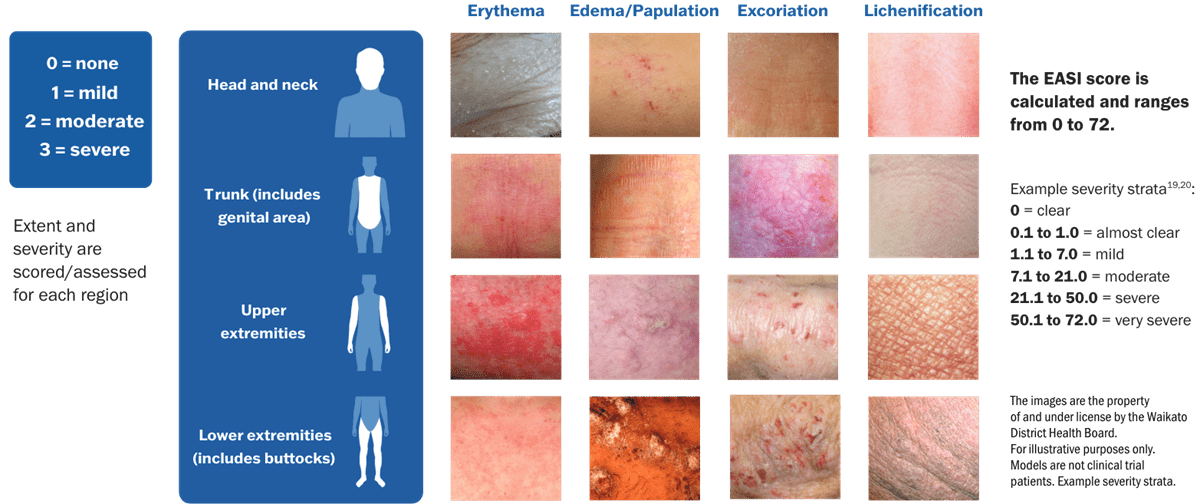 Example representation of IGA scoring. Not an actual patient.
The NRS is composed of one item and represents the numbers 0 ("no itch") to 10 ("worst imaginable itch"). Subjects are asked to rate the intensity of their itch using this scale.